She struts a signature red, black and white style along with lots of SASS!
After "sassifying" her scissor skills at a local salon, Debbi worked at Arrojo Studio in New York for Nick Arrojo of What Not To Wear fame.
While there, this Master Hair Colorist and Stylist created her "Sassy Hair Chick" persona. Debbi returned to Baltimore and opened SASS Salon in 2011.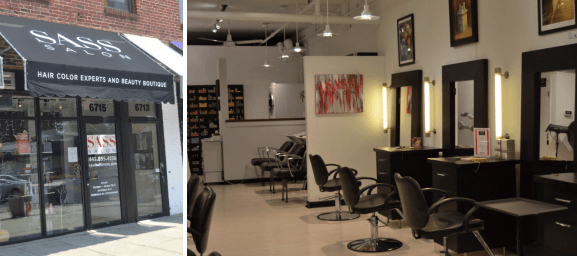 Debbi's black, white and red fashion style carries over to the salon — where her you'll find pops of her favorite hue, red, in the decor and black furniture, stations and framed mirrors. She saved the white for the walls.
"I really want to concentrate on hair color and not have conflicting colors like red or cream walls. White walls, white ceilings and great lighting, allow us and our clients to actually see the cuts and colors we create," she shares.
When clients sit in her chair for the first time, Debbi sits down with them. She starts with a consultation to get a sense of each client's personality, style and the image they want to convey. "It allows me to get into your head about your hair," she explains. She tells the story of a woman who came in and confided that she had hated her hair for a long time and never had anyone talk to her about what she wanted in a hair style.
Debbi will ask such questions as "Give me three words that you want your hair to say about your personality." "Maybe their hair style needs to reflect their personality a little more than what it does," she explains.
We turned the tables and asked Debbi to answer her own question. The words were right at the tip of her tongue — classy, sassy and fun. Sure enough, her hair style fits right into the definition.
She wants the same for her clients. "I'm a perfectionist at heart," adds Debbi. "I want people to come in here and feel like they are part of the family and know that they are going to get really great hair and to walk out feeling their best."
Part of the SASS experience includes sitting down for a "Before" and "After" photo session.
Clients are also offered coffee, wine, beer, soda or water along with healthy snacks. It's not about racing clients in and out the door. Debbi wants them to enjoy the experience along with the outcome.
When Debbi started at Robert Paul Academy as a mother of two young sons, (ages 4 and 7), she was "a woman on a mission." "The minute I got there to the minute I left, I couldn't absorb more information," she recalls. "They gave me the skills and the knowledge to be able to go out into the work world and start right away. The teachers were amazing."
Debbi points out that the world of opportunity after graduation from Robert Paul is endless. Along with working in a salon, there are other routes such as working as an editorial or film stylist.
Her advice to students — Never stop learning and find a mentor. "I am still looking for what's new, what's going to keep me current. I go to every educational class I can." She returns to New York each year for classes and also takes business courses.
She also offers fun learning opportunities for her clients, such as a BYOB Girls Night Out — as in Bring Your Own Blowdryer — where she dispensed blow drying tips.
Along with always adding new hot hair products, SASS also carries an extensive collection of hair tools as well as makeup, jewelry and shape wear.
Want to learn more about SASS? Visit sassbaltimore.com. You can book an appointment online or call 443.895.4536.